Advanced Ergonomics, Improved Mobility
At Whale Imaging, we design portable ultrasound carts with our customers' needs in mind. Every aspect of our carts have been engineered to produce a user-friendly experience, making them an ideal addition to any P-Series Ultrasound system.
Discover how this cart can improve the workflow in your hospital or clinic.
Ease-of-use and portability are at the heart of Whale's ultrasound cart design.
The Mobile Cart Unit includes carefully designed ergonomics, providing both comfort and functionality for the user.
Lightweight Mobile Cart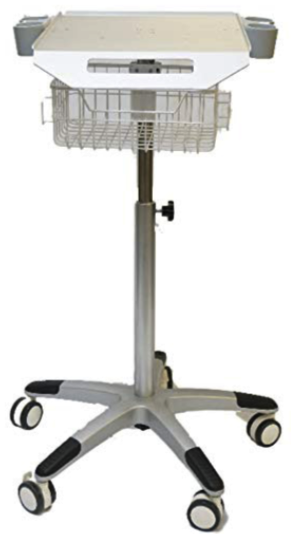 Simple Utility
The Lightweight mobile cart allows easy mobility and transition from one probe to another during scanning.
Features
Easy Adjust Height

Cart height can be quickly and easily tailored for user comfort using a single toggle.

Easy Track Locking Wheels

Wheels enable smooth and swift cart movements throughout a hospital or clinic. Wheel locks provide additional stability when the system is in use.

Lightweight & Designed for Mobility

Engineered to enhance portability, the 13.6kg (30.0 lb) cart moves easily when using the ergonomic handle.

Height: 74.9 – 106.7 cm (29.5 – 42.0 in)
Width: 40.6 cm (16.0 in)
Length: 45.7 cm (18.0 in)